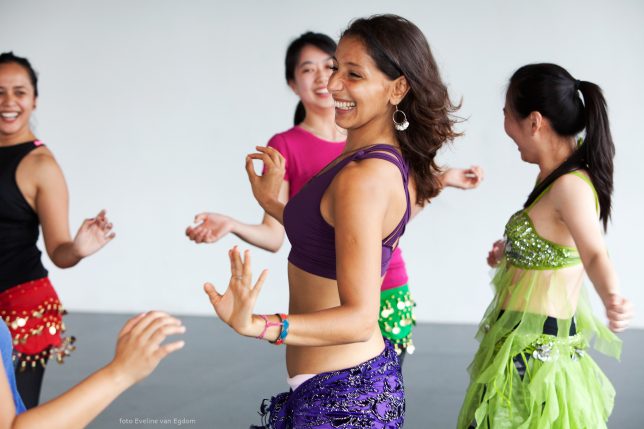 Allow 2018 to be YOUR year!
Let's set the intention of self-care, connecting with our inner Goddess & lots of Belly Dance joy for the new year 🙂
♥ The classes are starting again 23 & 25 January so within the first week of the course you are more than welcome to join! ♥
You'll find all the info down below.
* These open classes are for regular students and newcomers.*
*To avoid disappointment, please note that the classes are not for free *
You can purchase your Proefles|Trial lesson or membership by clicking here.
Classes Information:
**********************
Belly Dance: A source of femininity
Bellydancing is a source of femininity, power, and inspiration. It's a dance dedicated to yourself and enables you to enjoy all aspects of your femininity: Your power, softness, sensuality, energy, passion, sensitivity, creativity, etc.. Belly dancing is a dance that has been practiced by women in the Middle-East for centuries to have fun, express themselves and stay in great shape.
It's truly a dance for women of all shapes, sizes & ages!
Practical Information
**********************
OPEN LEVEL: Tuesdays 20.25-21.25
OPEN LEVEL: Thursdays 17.30-18.30
BELLY DANCE BASICS: Thursdays 20.25-21.25
The Open Level lessons are suitable for dancers with little or much experience with Bellydancing. If you are a beginner then it's a good idea to follow the Belly Dance Basics class first or in addition to the Open Level lessons. In the lessons, you learn basic Belly dance techniques, postures, movements, and combinations. You learn some fun & simple Belly Dance choreographies. In addition, we always start our classes with some mindfulness exercises focused on femininity, relaxation, and self-embrace.
Course dates, prices, how to sign up:
***************************************
http://www.thedancemovement.nl/en/belly-dance/
Location & Meeting Point:
***************************
OPEN LEVEL -TANGOZAAL
Waldeck Pyrmontkade 116, 2518JR, The Hague.
Meeting point | entrance: Corner Waldeck Pyrmontkade & Elandstraat
P.S. WE GATHER AT THIS CORNER AND GO UPSTAIRS TOGETHER 10 MINUTES BEFORE CLASS, PLEASE BE ON TIME!!
What to wear?
***************
Wear something you feel pretty and comfortable in.
Pants: legging or stretchy pants
Top: a tight fitting top (showing your belly is fine but not obligatory)
Shoes: bare feet, socks or soft ballet shoes are ok.
Scarf for the hips: If you have one bring it with you, if not I have some at the studio you could borrow or buy.
Do you prefer to learn privately?
**********************************
That's possible! Please contact us here
Looking forward to dancing with you!